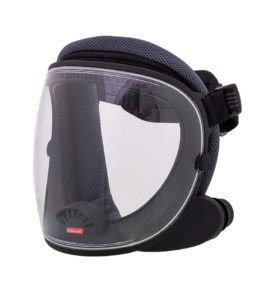 UniMask
Light universal faceshield providing the highest comfort and safety.
Areas of application
UniMask is suitable for many kinds of grinding and other surface finishing operations, and by heavy duty maintenance. It is convenient for use in the building industry, automotive industry, shipbuilding etc. UniMask can be used for spray painting or surface finishing operations in the environments with low demands on chemical resistance, typically in chemical and pharmaceutical industry and laboratories.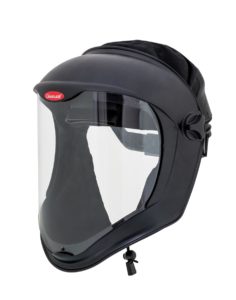 Protective shield CA-3 (acetate)
This light protective shield with an easily exchangeable visor provides respiratory and face protection in different chemical and pharmaceutical applications and ensures a clear wide view.
Acetate visor – due to its high chemical resistence, this light shield provides protection against liquid spraying (in accordance with EN166).
Areas of application
Dusty environments where neck and shoulder protection is not needed, environments with chemical resistance requirements.


Safety helmet CA-4 (acetate)
Safety helmet CA-4 combines respiratory protection with protection of the head, face and ears. The wide panoramic visor with an anti-fog coating enables a good orientation. An additional flip-up polycarbonate or acetate visor can be supplied with the helmet.
Areas of application
Dusty enviroments without the necessity to protect neck and shoulders, enviroments with chemical resistance requirements.