Broaden your perspective
The most innovative and ergonomical helmet to date, expanding the welder´s field of vision without compromising on comfort. The unique nose cut-out floats above the nose to position the ADF closer to the eyes. This enlarges the field of vision 6 times compared to the conventional welding helmets. Fully automated shade level adjustment for any welding procedure in the 5-12 range. The in-built air distribution system delivers the air right into the breathing zone.
AerTEC™ RangeMAX Air 
Welding helmet with auto-darkening welding filter and air distribution system.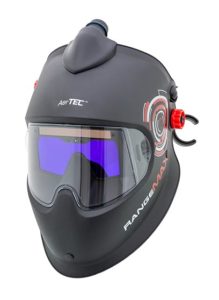 CleanAIR® Basic 
Powered air-purifying respirator with particle filter and Li-ion battery.
Accessories 
Hose QuickLOCK™, duffel bag, charger, comfort belt, MIG/MAG gloves.