The new CleanAIR® QuickLOCK ™ system makes connecting and disconnecting of the head part much easier and allows even one-handed operation. Anytime you need to change a headtop several times during your shift, the new QuickLOCK ™ solution will save your time.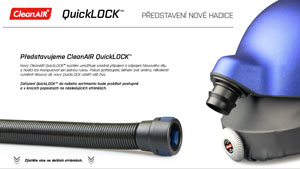 Nový CleanAIR QuickLOCK™ systém umožňuje snadné připojení a odpojení hlavového dílu,
s hadicí lze manipulovat jen jednou rukou. Pokud potřebujete, během své směny, několikrát vyměnit hlavový díl, nový QuickLOCK ušetří váš čas.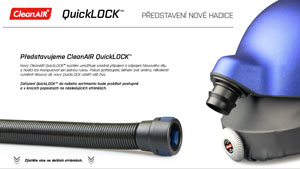 The biggest fair event of this year is, without any doubt, A+A Düsseldorf. The fair is taking place between 17 – 20.10.2017. We are going to present there our latest product improvements and novelties. Please make sure to be there and visit us at our stand. The stand is will be on the same spot as two years ago, eg. the stand F55, the hall No.4.
We are looking forward to meetyou there.
Hlavní veletržní událostí tohoto roku je pro nás bezesporu veletrh A+A Düsseldorf, který se bude konat 17 – 20.10.2017. Na veletrhu budeme představovat naše nejnovější výrobky a proto pokud chcete mít informace z první ruky, neváhejte nás navštívit. Stánek bude stát na stejném místě, jako před dvěma lety, tj. na stánku F55 v hale č.4.
Budeme se na Vás těšit!
Please be informed we attend International Fair Schweissen und Schneiden in Düsseldorf between 25.9 – 29.9.2017. If you are interested in novelties in our CleanAIR product range, please dont hesitate to visit us in the hall 11 at the stand G57.
We are already looking forward to your visit.
Your MALINA – Safety team.

It is our honor to introduce our brand new Product Catalogue 2016.
Je nám ctí představit Vám náš zbrusu nový produktový katalog 2016.