The new CleanAIR® QuickLOCK ™ system makes connecting and disconnecting of the head part much easier and allows even one-handed operation. Anytime you need to change a headtop several times during your shift, the new QuickLOCK ™ solution will save your time.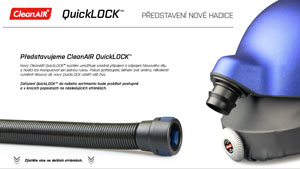 Nový CleanAIR QuickLOCK™ systém umožňuje snadné připojení a odpojení hlavového dílu,
s hadicí lze manipulovat jen jednou rukou. Pokud potřebujete, během své směny, několikrát vyměnit hlavový díl, nový QuickLOCK ušetří váš čas.